Bible and Scroll in graphics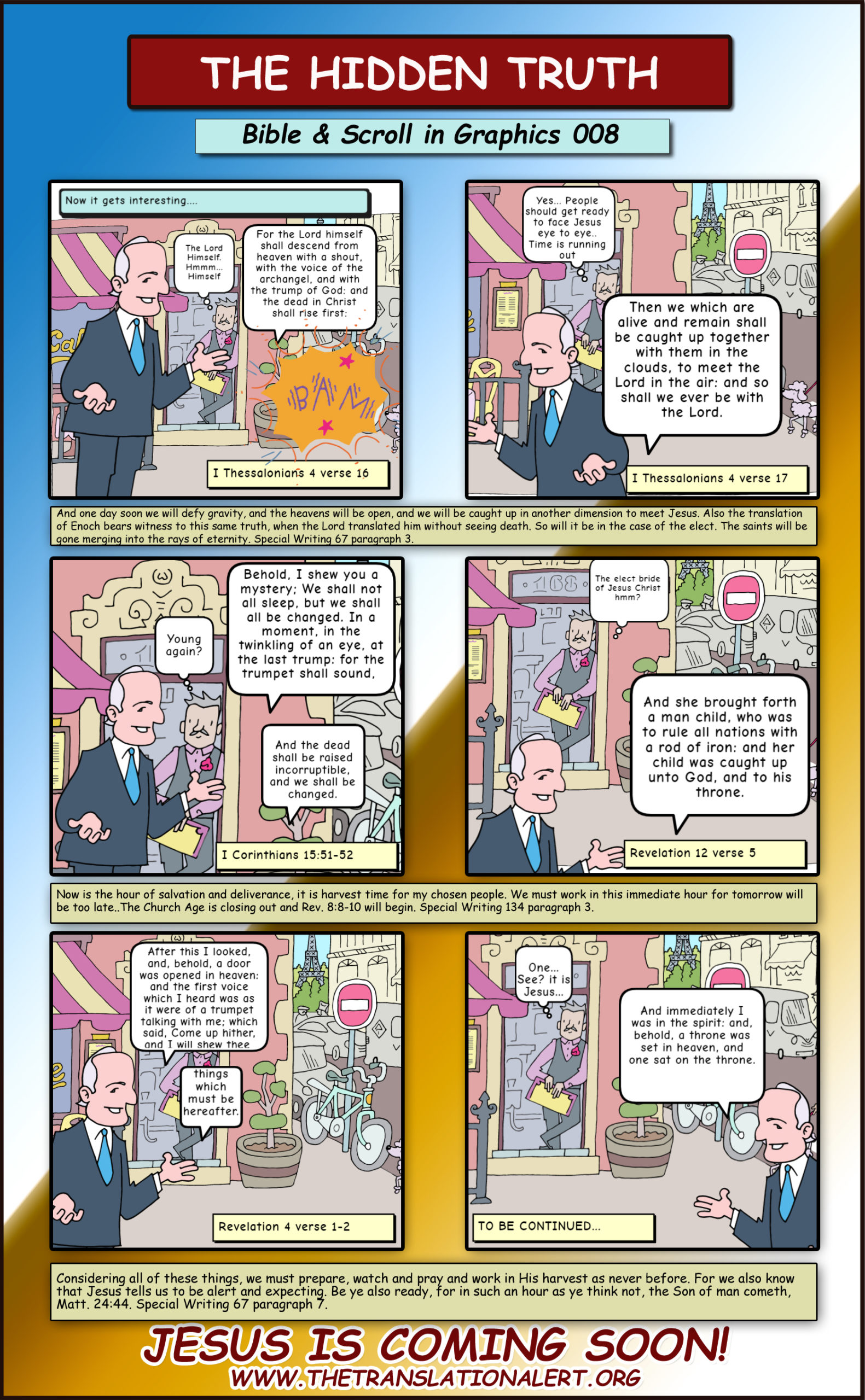 Bible and Scroll in graphics – 008 
Now it gets interesting….
For the Lord himself shall descend from heaven with a shout, with the voice of the archangel, and with the trump of God: and the dead in Christ shall rise first: I Thessalonians 4 verse16
The Lord Himself. Hmmm… Himself
Then we which are alive and remain shall be caught up together with them in the clouds, to meet the Lord in the air: and so shall we ever be with the Lord. I Thessalonians 4 verse 17
Yes… People should get ready to face Jesus eye to eye… Time is running out.
And one day soon we will defy gravity, and the heavens will be open, and we will be caught up in another dimension to meet Jesus. Also the translation of Enoch bears witness to this same truth, when the Lord translated him without seeing death. So will it be in the case of the elect. The saints will be gone merging into the rays of eternity. Special Writing 67 paragraph 3.
Behold, I shew you a mystery; We shall not all sleep, but we shall all be changed. In a moment, in the twinkling of an eye, at the last trump: for the trumpet shall sound,
And the dead shall be raised incorruptible, and we shall be changed. I Corinthians 15:51-52
Young again?
And she brought forth a man child, who was to rule all nations with a rod of iron: and her child was caught up unto God, and to his throne. Revelation 12 verse 5.
The elect bride of Jesus Christ hmm?
Now is the hour of salvation and deliverance, it is harvest time for my chosen people. We must work in this immediate hour for tomorrow will be too late..The Church Age is closing out and Rev. 8:8-10 will begin. Special Writing 134 paragraph 3.
After this I looked, and, behold, a door was opened in heaven: and the first voice which I heard was as it were of a trumpet talking with me; which said, Come up hither, and I will shew thee things which must be hereafter. Revelation 4 verse 1
And immediately I was in the spirit: and, behold, a throne was set in heaven, and one sat on the throne. Revelation 4 verse 2
One… See? it is Jesus…
Considering all of these things, we must prepare, watch and pray and work in His harvest as never before. For we also know that Jesus tells us to be alert and expecting. Be ye also ready, for in such an hour as ye think not, the Son of man cometh, Matt. 24:44. Special Writing 67 paragraph 7.
008 – The hidden truth in PDF