Bible and Scroll in graphics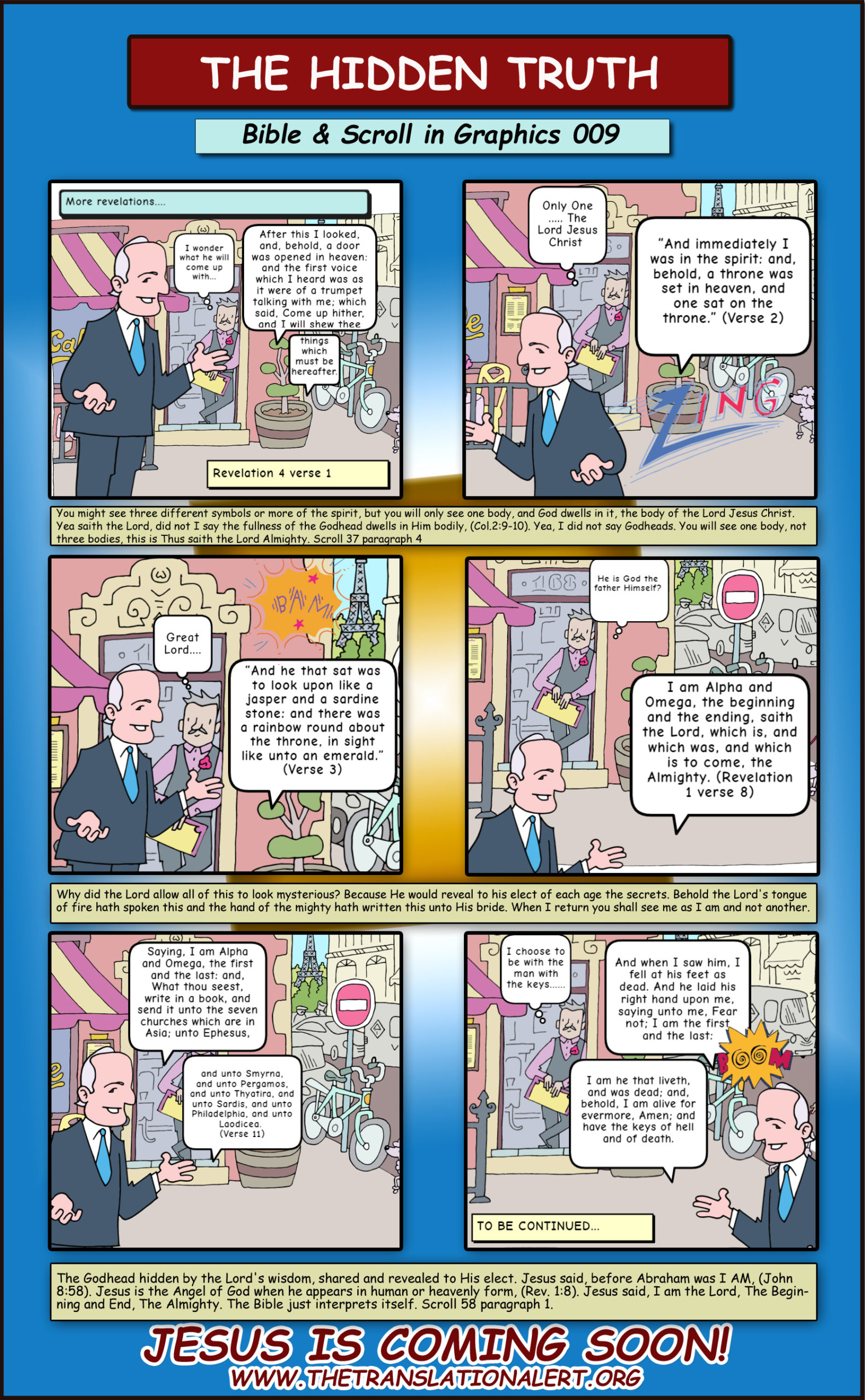 Bible and Scroll in graphics – 009 
More revelations….
After this I looked, and, behold, a door was opened in heaven: and the first voice which I heard was as it were of a trumpet talking with me; which said, Come up hither, and I will shew thee things which must be hereafter. Revelation 4 verse 1
I wonder what he will come up with…
"And immediately I was in the spirit: and, behold, a throne was set in heaven, and one sat on the throne." (Verse 2)
Only One ….. The Lord Jesus Christ
You might see three different symbols or more of the spirit, but you will only see one body, and God dwells in it, the body of the Lord Jesus Christ. Yea saith the Lord, did not I say the fullness of the Godhead dwells in Him bodily, (Col.2:9-10). Yea, I did not say Godheads. You will see one body, not three bodies, this is Thus saith the Lord Almighty. Scroll 37 paragraph 4
"And he that sat was to look upon like a jasper and a sardine stone: and there was a rainbow round about the throne, in sight like unto an emerald."
(Verse 3)
Great Lord….
I am Alpha and Omega, the beginning and the ending, saith the Lord, which is, and which was, and which is to come, the Almighty. (Revelation 1 verse 8)
He is God the father Himself?
Why did the Lord allow all of this to look mysterious? Because He would reveal to his elect of each age the secrets. Behold the Lord's of fire hath spoken this and the hand of the mighty hath written this unto His bride. When I return you shall see me as I am and not another.
Saying, I am Alpha and Omega, the first and the last: and, What thou seest, write in a book, and send it unto the seven churches which are in Asia; unto Ephesus,
and unto Smyrna, and unto Pergamos, and unto Thyatira, and unto Sardis, and unto Philadelphia, and unto Laodicea. (Verse 11)
And when I saw him, I fell at his feet as dead. And he laid his right hand upon me, saying unto me, Fear not; I am the first and the last: I am he that liveth, and was dead; and, behold, I am alive for evermore, Amen; and have the keys of hell and of death.
I choose to be with the man with the keys……
The Godhead hidden by the Lord's wisdom, shared and revealed to His elect. Jesus said, before Abraham was I AM, (John 8:58). Jesus is the Angel of God when he appears in human or heavenly form, (Rev. 1:8). Jesus said, I am the Lord, The Beginning and End, The Almighty. The Bible just interprets itself. Scroll 58 paragraph 1.
009 – The hidden truth in PDF