Bible and Scroll in graphics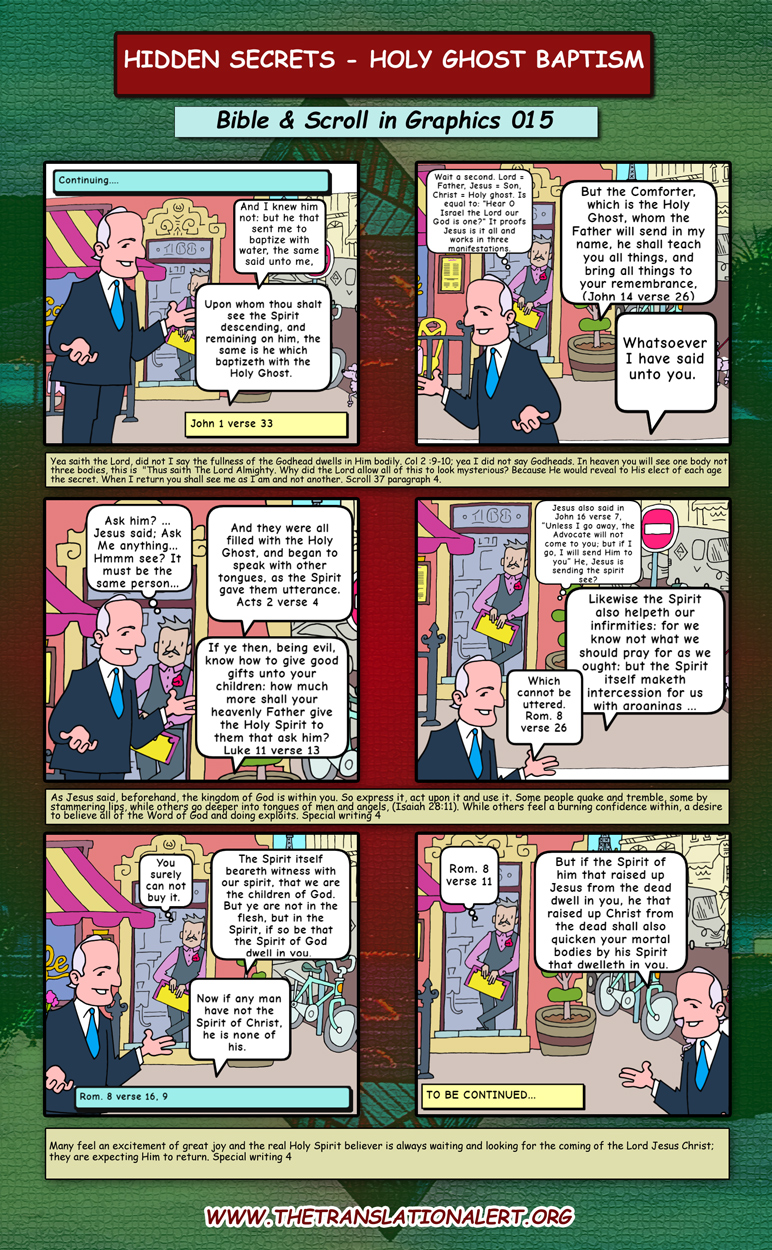 The hidden secrets – Holy Ghost baptism – 015 
Continuing….
John 1 verse 33; And I knew him not: but he that sent me to baptize with water, the same said unto me, Upon whom thou shalt see the Spirit descending, and remaining on him, the same is he which baptizeth with the Holy Ghost.
John 14 verse 26; But the Comforter, which is the Holy Ghost, whom the Father will send in my name, he shall teach you all things, and bring all things to your remembrance, whatsoever I have said unto you.
Wait a second. Lord = Father, Jesus = Son, Christ = Holy ghost. Is equal to: "Hear O Israel the Lord our God is one?" It proofs Jesus is it all and works in three manifestations.
Yea saith the Lord, did not I say the fullness of the Godhead dwells in Him bodily. Col 2 :9-10; yea I did not say Godheads. In heaven you will see one body not three bodies, this is  "Thus saith The Lord Almighty. Why did the Lord allow all of this to look mysterious? Because He would reveal to His elect of each age the secret. When I return you shall see me as I am and not another. Scroll 37 paragraph 4.
Acts 2 verse 4; And they were all filled with the Holy Ghost, and began to speak with other tongues, as the Spirit gave them utterance.
Luke 11 verse 13; If ye then, being evil, know how to give good gifts unto your children: how much more shall your heavenly Father give the Holy Spirit to them that ask him?
Ask him? … Jesus said; Ask Me anything… Hmmm see? It must be the same person…
Likewise the Spirit also helpeth our infirmities: for we know not what we should pray for as we ought: but the Spirit itself maketh intercession for us with groanings which cannot be uttered. Rom. 8 verse 26
As Jesus said, beforehand, the kingdom of God is within you. So express it, act upon it and use it. Some people quake and tremble, some by stammering lips, while others go deeper into tongues of men and angels, (Isaiah 28:11). While others feel a burning confidence within, a desire to believe all of the Word of God and doing exploits. Special writing #4
Jesus also said in John 16 verse 7, "Unless I go away, the Advocate will not come to you; but if I go, I will send Him to you" He, Jesus is sending the spirit see?
Rom. 8 verse 16; The Spirit itself beareth witness with our spirit, that we are the children of God: Verse 9; But ye are not in the flesh, but in the Spirit, if so be that the Spirit of God dwell in you. Now if any man have not the Spirit of Christ, he is none of his.
You surely can not buy this Spirit.
Rom. 8 verse 11; But if the Spirit of him that raised up Jesus from the dead dwell in you, he that raised up Christ from the dead shall also quicken your mortal bodies by his Spirit that dwelleth in you.
Many feel an excitement of great joy and the real Holy Spirit believer is always waiting and looking for the coming of the Lord Jesus Christ; they are expecting Him to return. Special writing 4
015 – The hidden secret – Salvation in PDF